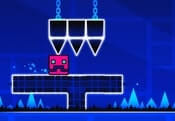 Geometry Dash Unblocked FREE GAME · PLAY ONLINE
Fans will be very happy when they visit Geometry Dash Unblocked! Here, players will discover new opportunities that will surprise them! Help the wonderful square-shaped character cope with all the obstacles. He will have to go a distance, which will be accompanied by music.
A cool coincidence that each jump of the character will beat to the beat of the tune. Get past all the traps and successfully complete the level by getting three stars. There are also difficult tasks that only a master can handle!