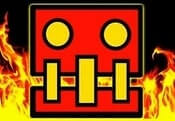 Geometry Dash Meltdown FREE GAME · PLAY ONLINE
Geometry Dash Meltdown is based on the original version, but has a few differences. The main task remains the same! You will have to control a cool square and pass all the tests. Here there are only 3 levels, that will seem to be very few.
But because of different difficulties you will find out that you are wrong. It will be enough to enjoy the atmosphere and the songs. In order to make the jump, you have to click on the screen. Calculate correctly the movements of the hero and do it in time!