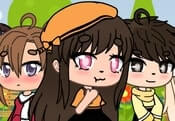 Life in Gacha Life FREE GAME · PLAY ONLINE
This is an exciting chance to embark on a new adventure! In Life in Gacha Life, you can create cool characters and have a party with them. Experiment with their looks by choosing clothes, hairstyles and more.
After that, go to the studio where there is an opportunity to come up with a scene. Use beautiful backgrounds to create the perfect atmosphere! In addition, participants can add fun decor items and come up with text for the heroes. Visit many locations like the city, school, parks and more!