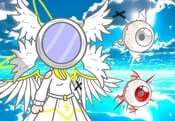 Gacha Glitch FREE GAME · PLAY ONLINE
Let's go on stage together! In Gacha Glitch, players will create amazing avatars. They will take part in performances, so try your best! Customize their costume, facial features and even their mood. Change postures, facial expressions and more to achieve the desired results!
This version adds exciting features like mini-challenges. There you can earn coins in order to unlock new abilities. Create dialogues, set up scenery and understand what items are needed! Weapons, animals or something else?