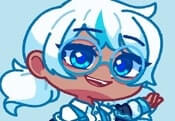 ChibiMation Gacha FREE GAME · PLAY ONLINE
Do you like roleplays? Then go to ChibiMation Gacha and create your character. Cute cool graphics will win your heart! Choose from hundreds of outfits that you like! Write your own plot and follow it. Enjoy the process with your friends!
Conquer your own artificial world and let go of control. After all, there are no hopeless situations. Especially here, where in a couple of clicks you can fix everything, and also radically change your appearance and image. This will help your imagination grow!