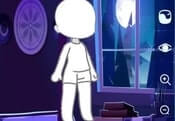 Gacha Nymph FREE GAME · PLAY ONLINE
Gacha Nymph is a new and exciting mod for all fans! Here you have to create your own unique character and go on trips. One of the cool things about this challenge is that you come up with it yourself! Visit a place where you can customize absolutely everything!
What eyes, hair and skin color will the hero have? Will he or she have freckles, bright lipstick, or elf-like ears? Only you have the right to decide who you go on stage with! In addition, this version has many updates that will allow you to have fun!