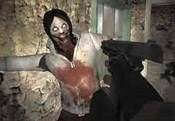 Lets Kill Jeff The Killer FREE GAME · PLAY ONLINE
The city is tired of worrying and cannot walk in peace. The streets are empty and this is a real problem! All due to the fact that a terrible maniac lives here who kidnaps people. The police can't catch him, so you step in! An experienced railway worker who never loses.
The character has already dealt with this psychopath twice and handed him over to prison. But he escaped again and now there is no other choice but to destroy him in Lets Kill Jeff The Killer! Be careful, otherwise he will be able to outsmart you!