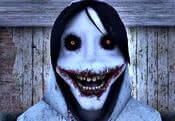 Jeff The Killer Mask FREE GAME · PLAY ONLINE
A strange noise from the corridor woke up the main character. What could happen since he is in his own home? The plot of the game is about a maniac who stalks you until he catches you. But does he have a chance?
Players will have to be careful and think through every next step in order to stay alive. The first location is a room from which you need to get out in order to move on. The doors are locked, so find the keys! They can be in the most unexpected places, so don't miss any corners! Can you handle it?