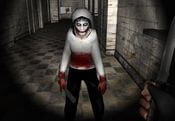 Let's Kill Jeff The Killer: The Asylum FREE GAME · PLAY ONLINE
They say that the worst maniac is dead. But the main character of the game does not believe in this and is ready to prove the opposite! In this version of the challenge, players will go to the place where this monster used to live.
You must find evidence that will indicate that it is still alive. Be careful while exploring this creepy room! The task is to find eight photographs. They are made by this bloodthirsty creature. Collect them and hand them over to the police to reopen the case!