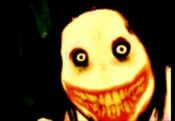 Jeff The Killer Creepypasta FREE GAME · PLAY ONLINE
This city is inhabited by a terrible maniac who kills innocent people. He gets away with it every time, but someday he will be caught. In the meantime, in Jeff The Killer Creepypasta the main character meets him. He woke up at night from extraneous and loud sounds.
A terrible monster climbed into his house and began hunting. Can you survive in such a stressful situation? Looking for the keys to the doors to get out of here. Hints written on the sheets can be anywhere, so be careful. Good luck!