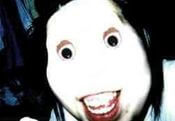 Jeff The Killer Original Face FREE GAME · PLAY ONLINE
New creepy experience in Jeff The Killer Original Face! Today players will help the main character remain safe and sound. He woke up in the middle of the night from strange sounds and realized that death was already near.
To get out of his own house he has to find all the keys. But it won't be easy, because the maniac is hunting! Can you be smarter than the enemy and deceive him without putting your life in danger? Look also for other items that will help you stay alive! Turn on the flashlight, read notes and hide!