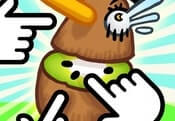 Kiwi Clicker FREE GAME · PLAY ONLINE
Your bird has decided to start his own business. And she does it well. Unless she needs an assistant who will tirelessly click on the screen to increase profits. Music is also present here. It complements Kiwi Clicker well and creates a good atmosphere.
The controls here are also very simple! You need to drag objects and buildings with your finger. Start production. Then they will combine and become a completely new task, more perfect! New tests for the bird battalion. Fill this reality with new breath.