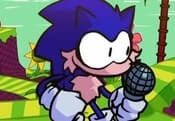 Hog FNF FREE GAME · PLAY ONLINE
This is a mod for a popular game that has spread all over the world. The fans made sure that the players get the maximum pleasure. In this version, a street rap artist will fight a blue hedgehog. His appearance has changed for the worse and now he has become too dangerous.
Will you manage your emotions or will you give up prematurely? Carefully follow the arrows on the screen and repeat them exactly to a tee to win this battle! Do not skip them otherwise you will not be able to complete the level perfectly!