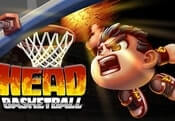 Head Basketball FREE GAME · PLAY ONLINE
Head Basketball is a mod for a famous challenge. Here, players will control a small round character with short legs. In the main version, you tried to score goals, and today is a different goal! The ring will hang in the air and to throw the ball there you need to be very dexterous.
Try to develop great speed and run through the entire field to get points. Jump as high as possible or vice versa weaker, adjusting it with two buttons. Fans will also be able to buy cool skins and accessories for young athletes!