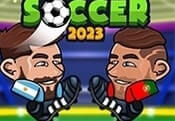 Head Ball 2023 FREE GAME · PLAY ONLINE
This is a sports entertainment that will surprise you! In this game, players have to control a funny character and take part in football. The hero has short legs and body, so the blows will have to be delivered with the face.
There will be an opponent on the field who has the same goal – to win. Don't let him do it and take the victory for yourself! Be agile to hit the ball in the goal as many times as possible. In this challenge, you need to react quickly to become a master with a high score!