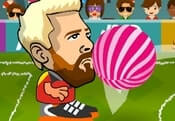 Head Ball Unblocked FREE GAME · PLAY ONLINE
In this version of the game, fans will have a lot of fun! Finally, there are no more restrictions here and you can try anything! Go to the football field and earn points! In this challenge, players will control an athlete guy who is just a beginner.
He will listen to all your instructions, so be responsible and focused! Point it to the right or left to take the ball away from your opponent! Jump up to make the hero face punch and more! This challenge will delight everyone and cheer you up!