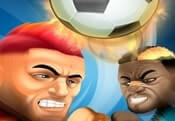 Head Ball Soccer FREE GAME · PLAY ONLINE
Head Ball Soccer is another mod that will take you to a sports atmosphere. This is a great way to spend time without getting out of bed! Here you will go to the platform, where there are gates on both sides. The main task of the two users is to score as many goals as possible.
The one who gets them the most wins! Also here you need to have a quick reaction, which will allow you to become a leader. Fight with your comrades and find out who is the best among you! Unlock amazing new costumes and accessories!