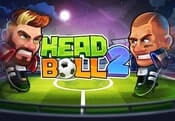 Head Ball 2 FREE GAME · PLAY ONLINE
Welcome to Head Ball 2! This place will make you nervous, but also have fun. Here the participants will continue to compete in the football league. Take control of a character who must score as many goals as possible. In this challenge, he will do it with his neck and face.
For this reason, be nimble and agile to gain victory over your opponent! Press the buttons that will make the hero run and jump in two versions. Do everything at the highest level to take first place and become a master! Good luck!