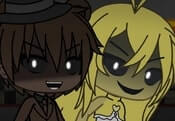 Gacha FNaF FREE GAME · PLAY ONLINE
The characters from Gacha FNaF also decided to experience fear! It's up to the players to give them that opportunity. Visit the closet where you'll pick up a creepy look. Remember that in these clothes heroes will go to a meeting with animatronics.
They need to look appropriate and so the participants will have to use all their imagination. Wear a Glucktrap jacket, try on Bonnie's ears or Elizabeth's shirt! You can also add different accessories that are associated with horror!