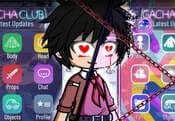 Gacha Club Mod FREE GAME · PLAY ONLINE
Gacha Club Mod is a brilliant project that will give you cool emotions. Players will have to start the process of creating characters. There is a large selection of settings where everyone will find what they have long wanted.
Turn on your imagination and come up with a stunning image! Now you have to go to the stage and come up with a script. What movie do you want to make? Feel like a director and give each of the characters a word! Add cool decor items, accessories, animals and more!