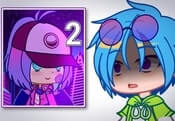 Gacha Club 2 FREE GAME · PLAY ONLINE
This is another version of the famous game where everyone can become a director. Here players can fulfill all their desires and enjoy the cool atmosphere. Before you go on stage you have to come up with a story. Work on the text!
After that, сustomize characters appearance to get the desired result. Here, participants can change movements, expressions, and even outfits. Make something that pleases your eyes and heart! You can also do several processes at once, but not to go astray!