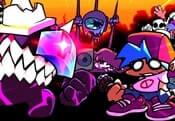 FNF vs Impostor V4 FREE GAME · PLAY ONLINE
In this mod, players will be able to fight with several characters at once. These heroes are space aliens from the famous game. There are many of them and they all want to defeat the Boyfriend! Don't give them that chance!
Today, the participants will sing a huge number of unique songs. Enter the stage in turn with each enemy. The main thing – do not waste energy so that it is enough for everyone. It will be a lot of fun, because the impostors will do different tricks. Try to survive until the end of each round!