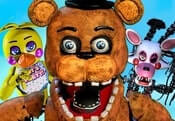 FNF vs FNaF 2 FREE GAME · PLAY ONLINE
Boyfriend and his girlfriend were very hungry. They went outside to find the nearest pizzeria. It's getting dark and it's getting close to midnight! They went inside, but there was no one there. There are no workers and no one will sell them a dish!
Now the guys are trapped, and even with animatronics! The guy will have to fight one of them to protect his beloved. Perform some songs that have a dark plot. You have to be dexterous and attentive to get out of here! Can you handle this game?