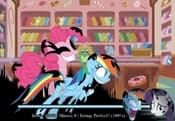 FNF MLP: Darkness is Magic FREE GAME · PLAY ONLINE
In FNF MLP: Darkness is Magic you will go to a fascinating universe. Here live little ponies who are always happy for new adventures. The main plot will tell about the Rainbow who fell ill with a terrible virus. In order to cure her, players have to go through several levels.
In them you can sing unique songs that you may have already heard about. All melodies should be familiar to you and therefore will add motivation! Here are bright graphics on locations and real fans will be able to enjoy it!