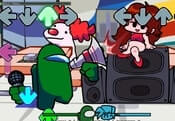 FNF Impostor v5 FREE GAME · PLAY ONLINE
This time, Boyfriend will have to fight with space opponents. There are four of them and they have completely different abilities. Players will have to sing funny songs that touch on interesting topics. In this game you have to be very attentive and react quickly to complete the main task.
Multi-colored characters will take turns on stage and try their hand. Prove to everyone once again that you are worthy of the main title! Sometimes the tension will go off scale because the pace will get faster.