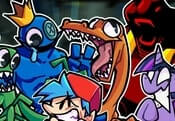 FNF Friends To Your End FREE GAME · PLAY ONLINE
FNF Friends To Your End is a new mod that you can have fun with. Boyfriend is very dumbfounded by who he has to fight this time! Rainbow monsters have been released to come here. And besides them, there will be popular impostors here.
The player will have to be very careful not to lose to these guys! The main character should not be distracted and sing some cool tracks! React quickly to the arrows to hit the notes! Look at the movements of the enemies, but don't be scared! They are far from you in every sense.