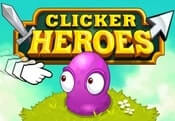 Clicker Heroes FREE GAME · PLAY ONLINE
Welcome to the world of war and treachery! In Clicker Heroes, players will have an unforgettable adventure in which they will have a great time! The main character battles enemies on a daily basis. He has a unique ability that surprises them.
The strength of the hero grows each time you recruit new warriors. Unlock all possible types and improve them. That way he can defeat any monster, even if it's several times bigger! The rules and controls are simple, so make the most of it! Good luck!