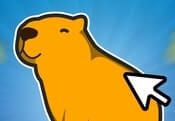 Capybara Clicker FREE GAME · PLAY ONLINE
Want to improve your little furry population? Then you have to click on the screen faster. Only in this way will they increase their numbers. You can create a whole clan of small capybaras for yourself. They will cutely run around the screen and move their ears.
The game is suitable for fans of anti-stress developments. A huge family of these animals will grow around you. And they are all cute enough to captivate your screen. Along the way, complete tasks of the joyful idea. It will be rewarding.