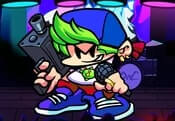 Beat Battle FNF FREE GAME · PLAY ONLINE
In this mod, a famous rap artist will fight with many different characters. Here players will meet heroes from popular cartoons and games. As soon as the melody starts to play, then immediately become attentive and focused!
Multi-colored arrows will fall from above, which you must repeat on your keyboard. Don't miss them because in this case you will lose one life. Remember that there are only three of them and if they run out, then you will lose. Try two modes that differ in tracks and difficulty.