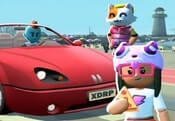 XDRP FREE GAME · PLAY ONLINE
XDRP is a challenge that will test your imagination. Relax and make the decisions that your heart tells you! Here, players will go to a wonderful world where there are a huge number of possibilities. For example, you can go to a location where you will drive a vehicle. Choose a sports car or SUV and develop maximum speed!
It's also a great way to get around town or take part in races. In addition, in the game, fans have a chance to have cool parties. They will take place in a house where there is plenty of room for fun. Don't forget to customize your character and make it unique! Choose trendy skins, accessories and more!