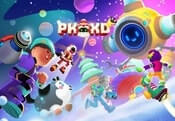 PK XD Update FREE GAME · PLAY ONLINE
PK XD Update is an improved version for real fans. Players will now be able to take part in even more cool events. It's time to throw a party at your own house! Make repairs in each of the rooms and show your imagination!
Add furniture, accessories and decorations to get the right atmosphere. Make sure you have lots of fun things to do, such as swimming pools. Participants can also explore a map with many locations. Find a hobby or even a job where you can earn a paycheck! There are no boundaries!