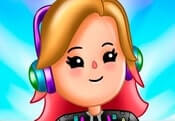 PK XD Creator FREE GAME · PLAY ONLINE
The game allows participants to create their own individual avatar. You can also design a house and enjoy the world. Spend time with your friends, chatting, buying clothes and household items. Don't forget to participate in holidays to gain new experiences!
Develop your creativity and social skills! Take care of your pets while watching them grow and get a hobby! Get the job of your dreams and earn money to improve various areas of your hero's life! Also, you can constantly change his appearance!