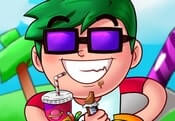 PK XD Journey FREE GAME · PLAY ONLINE
Are you ready to dive into a world of adventure and fun? In this game you have to go to the city together with your character. You'll have to come up with a look and a style for your hero! He can be anything you want, just make your dreams come true!
On the streets you can find new friends and team up with them to laugh together. Explore all the locations and use transportation to get around quickly. There are a huge number of them, as well as the decorations for the mansion. Make repairs and then hang out!