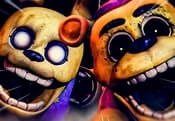 The Return to Bloody Nights 2 FREE GAME · PLAY ONLINE
Time to visit the sinister building! True fans know that animatronics live here all the time. In The Return to Bloody Nights 2 you will be able to see new ones. They have become even more evil and dangerous, so get ready. They say that hell is fiction, then what is it?
The participants have a room with cameras, with which they can observe the monsters. Watch their location so you don't run into them. Use a flashlight and other gadgets or items to stay alive! Are you brave enough to be here?