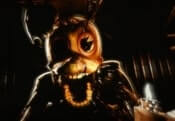 FNAF Oblitus Casa 2.0 FREE GAME · PLAY ONLINE
Enough time has passed since those events. All the memories flash through my head every day. Perhaps you are not ready to start a new life yet! The island is calling you for the last time! Will you be able to take all your will into your fist and solve problems?
In FNAF Oblitus Casa 2.0, players will revisit this eerie place and spend several hours there. But will it be easier than then? Perhaps this trip will be the last and decisive one! But only if you manage to remain safe and sound. Strength and patience!