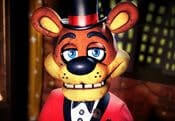 A Bite at Freddy's FREE GAME · PLAY ONLINE
In this game, players will go to a popular cafe. A serious breakdown has occurred and now you have to fix it. Solve the problem as soon as possible, because customers are already waiting for orders! Now it's time to start cooking and delivering, so hurry!
But the main task is not to fall into the trap of clever and insidious monsters. They hide literally everywhere, so be careful. Will you be able to survive these nights and complete all the missions? Watch out for enemies so they don't do anything dirty!