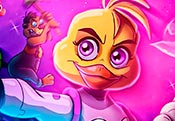 Freddy in Space 3 FREE GAME · PLAY ONLINE
Are you ready for new horrors in Freddy in Space 3? In this version, players will visit a new location, but with familiar characters. Each of them has special attributes and abilities, so it will not be easy to resist them.
They will strike using pizza, spinning objects, and more. You need to be really brave and powerful to resist them! Don't stand in one place, because your opponents will definitely take advantage of this! Be dexterous and attentive to avoid encounters with enemies!