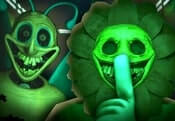 FNAF The Six Legged Sillies FREE GAME · PLAY ONLINE
In this version of the game you will go to a place that causes fear. Players will have to once again get used to the role of a security guard and survive until the morning. In this challenge you will be able to see new creatures that are even more dangerous.
Are you able to avoid meeting them? This is a responsible task, because it is almost impossible to avoid death. To achieve this, fans must put in a lot of effort and use important items. You can find them on the territory, but without falling into a trap!