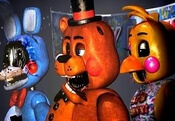 The Return To Abominations FREE GAME · PLAY ONLINE
Welcome to The Return To Abominations! This place is filled with fear and everyone knows about it. Today, players will be able to meet a new portion of monsters and be even more surprised. You, as always, have to take the role of an employee who stays in the building at night.
His job is to keep calm and safe. The task becomes more difficult because now the iron creatures have become several times more dangerous. With the help of surveillance cameras you will be able to observe their movement.