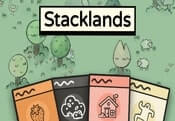 Stacklands FREE GAME · PLAY ONLINE
In Stacklands you have to lead your own countryside. Here, players must come up with a strategy that will help get ideal conditions. This is a card challenge where you have to think through each subsequent step. Make various combinations to get the desired option!
For example, you can create berries with which the inhabitants will eat. This will help them survive, and you will receive coins. Sell some of the cards and then buy new sets! It is very important to plan your actions here so as not to harm.