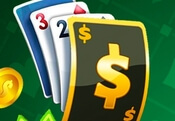 Solitaire Cash FREE GAME · PLAY ONLINE
Solitaire Cash is one of the most exciting card challenges. There are several elements combined here that will surprise everyone. Players will have to be very careful and think through every step.
Use all the previously acquired skills and get new ones that will help you achieve heights. The main task here is to assemble the cardboard boxes in the correct order. You need to sort them from the highest suit to the lowest. In addition, you can take part in various tournaments or just train.