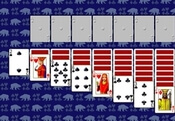 Double Klondike Solitaire FREE GAME · PLAY ONLINE
Double Klondike Solitaire is perfect for those who love puzzle games. Here the same rules as in the main version, except for some points. For example, there are two modes that you can alternate between each other in turn.
In one of them, players will be able to draw only one card from the deck. While in the second one you can get three pieces at the same time. The task remains the same, so remove all the cardboard boxes from the territory! Be careful and do not make mistakes, otherwise you will have to start over.