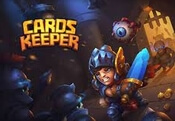 Cards Keeper FREE GAME · PLAY ONLINE
Here players can have a great time and improve their skills in different areas. This is a board game where you will perform card tricks. The main goal is to defeat all opponents and survive. Hold out here as long as you can and find all the hidden treasure!
Your hero has things that you need to protect. Be very careful because besides the monsters there will be other obstacles and even traps. But besides this, you can collect unique items and necessary tools with different cute abilities.