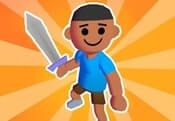 Spooky Island FREE GAME · PLAY ONLINE
In this game you will become a witness of post-apocalyptic events. Control the heroes who will go to the territory to fight monsters. The main task is to kill them and expand your own base! Once you're done with this mission, you'll head to your new destination.
Do not forget to improve weapons that will help you better attack opponents. Build a tower that will help you make shots if you don't have time. Unlock new opportunities, get bonuses, rewards and much more! It will be an exciting experience!