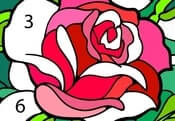 Happy Color – Color by Number FREE GAME · PLAY ONLINE
If you think your ideas are limitless, then this challenge is for you! In Happy Color – Color by Number, everyone will be able to show their best qualities. In addition, this is a great option to relax and devote time to your favorite activities.
Choose a picture that has nothing flashy and looks at ease. As soon as the players take the brush and paint, everything will change! Use your imagination to do everything at the highest level! Follow the original photo or make your own edits!