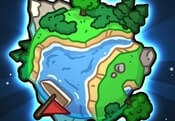 Planet Evolution: Idle Clicker FREE GAME · PLAY ONLINE
What can evolve in this world? Of course, there are a lot of monsters. On every fifth boss. With each level, the health of enemies grows and it becomes more and more difficult to defeat them without improvements. We click ourselves, we buy the gold of mercenaries received from the monsters.
In automatic mode, they begin to deal a certain amount of damage in the same way. Resting against some kind of insurmountable obstacle for ourselves, we calmly leave the mercenaries to farm gold. Planet Evolution: Idle Clicker steals time.