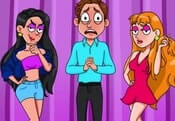 Impossible Date FREE GAME · PLAY ONLINE
How not to become a traitor to your own feelings? To do this, you will have to solve more than one puzzle. And this is not about understanding between people. This game turned love into real logic tests. No one but you can cope with the influx of such love. And if you still want to not screw up your date, take action.
Only the brave will match three elements in a row if they want their first kiss. Only the most outcast will emerge from the labyrinth to move from dating to flirting. Far from a dull application about high feelings and the desire to stay on this Impossible Date.