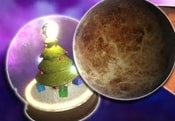 Solar Smash Secret Planets FREE GAME · PLAY ONLINE
Here players will be able to feel the power and lack of rules. Thanks to this, you can destroy the planet in many ways. In this version, participants will be able to interact with other space bodies that were not there before.
Choose one of them and come up with an ingenious option to get rid of it! What about if you launch a nuclear missile or fire a laser weapon? What is your brain capable of to finally get rid of stress? Create black holes, create a flood, or launch a meteor! Feel the necessary atmosphere!