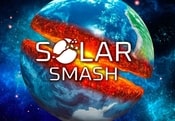 Solar Smash PC FREE GAME · PLAY ONLINE
This game is great for those who have accumulated too much stress. The best way is not to offend or humiliate a person, but to destroy the whole planet. Now this simulator can be on your computer!
Due to the fact that it is a large screen, players will be able to better see different little things. Erase the Earth with nuclear or laser weapons! In addition, you can arrange natural disasters using your power. There is excellent physics so you can observe the most realistic outcomes of events!