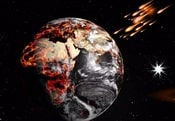 Solar Smash 2023 FREE GAME · PLAY ONLINE
Solar Smash 2023 is considered one of the first releases of this year. This part has many new additions that will surprise fans. The task remains the same, so you also have to destroy the planet. This can be done in a variety of ways.
The main thing is that your imagination does not let you down. Come up with a brilliant option in order to do it efficiently and quickly. Don't be afraid to experiment because there are absolutely no rules here. Combine different combinations to make a hole or cut a planet in half!